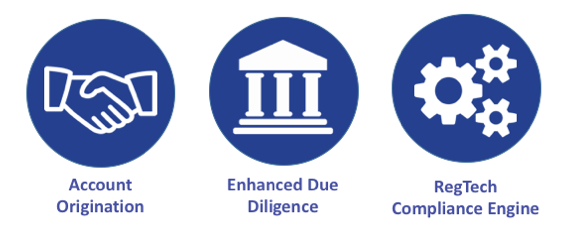 Cannabis Banking has never been so easy.
Having the right partners and leveraging the power of financial technology puts legal-cannabis banking within reach for community banks.
Banking legal cannabis businesses generates new lines of revenue and will open deposits for lending. Partner with us and you'll be booking new revenue by next quarter.
Enhanced Due Diligence
Our team specializes in the conducting the enhanced due diligence and know your customer investigations required to open and maintain marijuana business accounts, so there is no need to hire additional resources.
Continuous Transaction Monitoring
The MediPays Compliance Engine continuously monitors every incoming and outgoing transaction for FinCEN Reg Flags.
Automated Report Generation
All the data you need to easily complete account origination and periodic SAR filings and required CTRs in just a few clicks.
Financial Services + Cannabis Industry Expertise
Our executive team has over 50 years of financial services and technology experience and our specialized knowledge in the cannabis industry gives us the insight to market, evaluate, originate and service cannabis and CBD accounts.
Compliance-Centric Banking
The MediPays Compliance Engine and Program are designed to exceed FIN-2014-G001 and Enhanced Due Diligence (EDD) compliance guidance. In addition, MediPays Compliance Programs continue to be guided by the standards set by the Department of Justice's Cole Memo.
If you want to go far, then go together.
Why pay for compliance service when you can partner with a end-to-end business solution? We do not charge the bank an up-front fee for our service.
Turn-Key Solution
MediPays is a turn-key cannabis banking solution that will have you turning revenue in just a few weeks. When you partner with MediPays, we'll help you get there and we'll share success together.
Lightweight Integration
A simple integration with your existing internet banking systems makes it easy to deploy the MediPays compliance-focused digital banking application and Compliance Engine to service marijuana accounts.
RegTech Compliance Solution
Algorithms analyze retail and wholesale transactions, reconcile sales data with deposits, and uncover account behavior insights for your compliance team.